Strengths-based Career Orientation and Civic Engagement for Local and International Students
You want to grow as a person, connect with your peers and make a difference in Freiburg's community? Then take part in our new modules!
Starting from summer semester 2021 Zentrum für Schlüsselqualifikationen offers two courses in English. DISK.international and Service Learning.international allow students to reflect on their strengths and job opportunities as well as to get engaged in one of Freiburg's many NGOs.
DISK.international – Discover Your Skills.international:
Strengths-based career orientation
In the strengths-based career orientation, you will reflect on and analyze your individual strengths and relate them to possible career options. The awareness, exploration and application of your individual strengths are deepened in peer advising groups and by getting contact to different fields of work and potential employers. The module is open for all international students.
This module offers you the opportunity and ample space to individually discover personal "skills" (strengths, ressources, talents, interest, values), i.e. what makes you you and where you are at your best. It opens up many opportunities to intentionally experience your personal qualities and to implement your own ideas and goals. This will provide you with important building blocks to successfully shape different areas and aspects of your life. The structured strengths training accompanies you in discovering and using your strengths in your own everyday life, as a student and in developing concrete career options. The practical experiences, exchange and feedback in peer groups and the built-up know-how form the foundation for using your personal strengths profile for current and future challenges in a sustainable way.
Becoming aware of your personal qualities and signature-strengths:
Introduction to working with the VIA Character Strengths Model based on the assumptions of Positive Psychology. Implementation of the self-assessment questionnaire VIA (Values in Action) on the first attendance date and joint interpretation of the results (individual strengths profile). First exercises to test one's own strengths, formation of peer groups.
Exploring and testing strengths:
Observation and reflection tasks in contexts related to everyday life, feedback exercises in peer groups.
Applying one's own strengths:
Possibilities of learning occasions in which one's own strengths can be specifically applied and further developed. Free choice of learning occasions related to studies, personal development or professional orientation, mastering challenges based on strengths.
Developing one's own strengths and sketching career options:
Use and reflection on strengths work methods to design medium-term plans, decision-making occasions, ideas, and goals.
Prerequisites & Assignments
This course is exclusively offered to international students.
Experiential, reflective and personal learning and development is the focus of this course. Therefore, as a participant, you should be willing and open to reflect yourself and your personal experience and engage in a dialogical process, i.e. give and receive personal feedback in peer groups.
Regular attendance at all course dates, self-reflection of your individual signature-strengths (VIA questionnaire), gaining experience in actively using them, participation in peer advising groups, keeping a learning portfolio.
Register here: HisInOne for DISK.international
SL.international – Service Learning.international:
Engage. Connect. Reflect.
In this module, students leave their university lives behind to get involved in the local community off-campus. Students volunteer together in intercultural teams, supporting projects in a local non-governmental organization (NGO). Students contribute to local solutions for societal challenges and expand their networks by meeting both fellow students and experts of Freiburg's civil society. The module invites international students to become immersed in their host community, while local students broaden their intercultural horizon – at home.
Combined with (self-)reflection and academic input, this experience inspires new practical and theoretical knowledge, and supports transcultural sensitivity, multi-perspectivity, cooperative skills and solution-finding.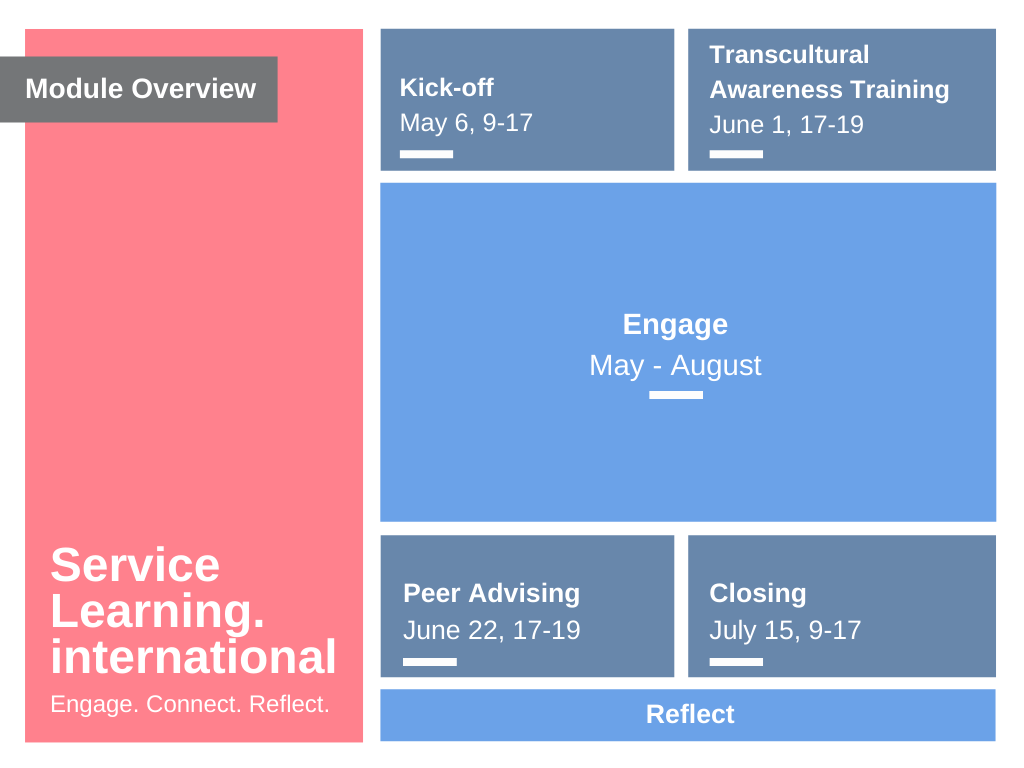 The module comprises three elements:
theoretical framing

of the experience,
and

reflection

of your individual learning process.
Practical experience
As part of an intercultural team, students volunteer a minimum of 30 hours with a local political, social or ecological organization in one of the following fields:
Interculturality & Migration, Environment & Sustainability, Democracy Building or Digitalization.
Students can choose their preferred community project based on their interests and the languages spoken in the organizations.
In the summer semester 2022, we cooperate with the following organizations:
Theoretical framing
In the Kick-off, students learn how to navigate through the module, meet the organizations, and explore theoretical approaches of civic engagement and socio-ecological change. In the Transcultural Awareness Training, they develop strategies to build meaningful relationships and successfully collaborate in an intercultural environment. In the Closing session, they participate in an exchange with activists from the Global South and identify regional and global commonalities and differences in the fight for a better world.
Reflection
With the help of an inspirational corner on ILIAS, students are inspired to reflect their experiences as well as their personal and professional development. The Peer Advising session provides a framework for dealing with challenging situations and questions regarding the volunteering projects. At the end of the semester, students
round off their learning process by writing an individual final reflective paper.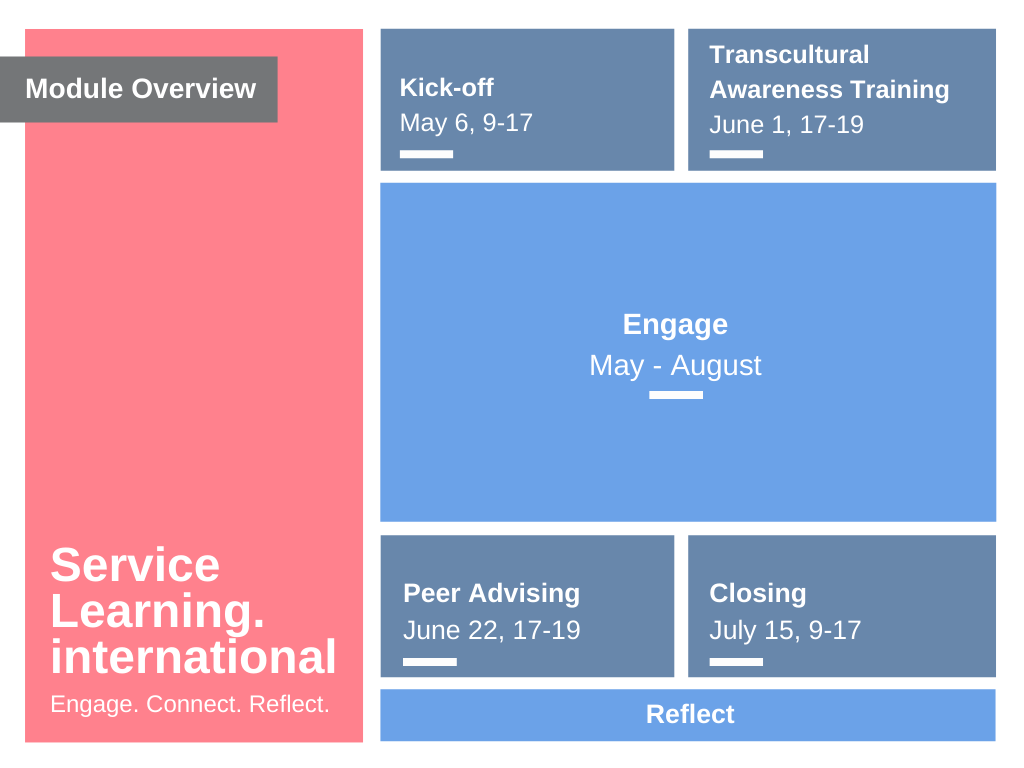 By participating in SL.international, students…
…experience how they can contribute to a better future in the local society.
…reflect on their identity and the social and cultural imprints.
…build meaningful relationships with other local and international students as well as with activists and staff of local NGOs.
…gain intercultural experiences in the fields of project management and solution finding.
…identify important steps in their individual learning process and evaluate their potential for future personal, academic, and professional objectives.
…contextualize their experience with academic knowledge of political participation and socio-ecological change in Germany.
…get a certificate of participation for future job applications.
For successful completion, Bachelor students can acquire 2 ECTS credits in the BOK area.
SL.international is open for all students at the University of Freiburg.
English is considered as the common language and is used in teaching. German language skills may help at times, but are not necessarily required.
Personally, you should be committed to a better future, be open to new experiences and be interested in exchange with people that offer diverse perspectives.
Active participation in all sessions, proof of at least 30 hours of practical volunteering, and submission of a project sketch, a mid-term briefing and a final reflective paper are necessary for a successful completion. The module is ungraded.
Registration to the module is open from March 28, 2022, 9 a.m., to April 20, 2022, on HISinOne via immediate admission with waiting list:
By registering, you will automatically be included in the ILIAS course for the module. As soon as you log in to ILIAS, the course "Service Learning.international – Engage. Connect. Reflect." will appear in your overview.
| | |
| --- | --- |
| | The project is funded within the framework of the DAAD program 'Integra - Integrating Refugees in Higher Education'. |