Adjunct Lecturers
At ZfS our lecturers are proven experts with practical experience in the fields of marketing, human resource management, media and journalism, information and communication technology, interculturality and foreign languages.
More than one third of all adjunct lecturers are alumni of the University of Freiburg, who pass on their knowledge and experiences to students of their 'alma mater'.
We are still looking for adjunct lecturers for some subjects.
We offer our lecturers comprehensive advising and detailed information material. They can participate in workshops on higher education didactics. Once a year, we also organize a lecturers' meeting for networking and exchange.
Get information about our lecturers by clicking on the disciplines below:
Teaching Principles
Our work, the conception and organization of our courses (and the selection of our lecturers) is based on the basic understanding of the students' active action orientation in a self-regulated learning process.
Thus, learning shall take place in an activating and motivating environment, that consistently enables reflection of their own learning objectives and progress and that reacts individually to the needs and motives of the participants. At the same time, it can be evaluated based on higher education didactic standards and is demand and practice oriented. In our courses, activating, interactive, participative and problem-oriented methods are used, which take the fact into account, that learning is an individual process and that varying methods encourage interest and motivation.

The following principles characterize the teaching program: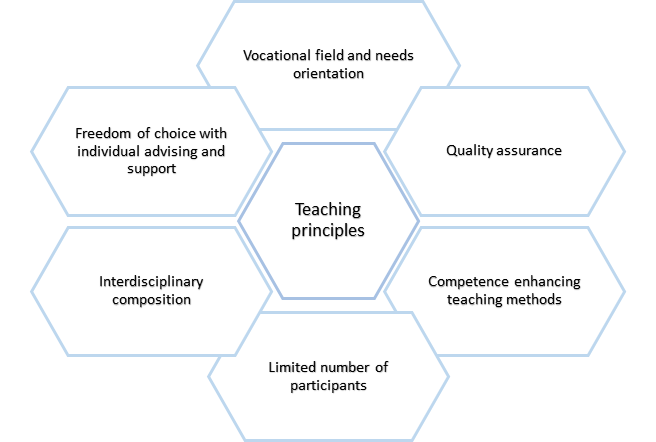 Interpretation of Key Qualifications and Competencies
In the BOK (Profession-oriented Skills -Berufsfeldorientierte Kompetenzen, BOK) section, general profession-oriented skills are promoted, enabling participants to acquire practice-oriented key qualifications. Here, a professional field consists of a group of professions that are alike when it comes to the education path, job requirements and tasks. The BOK section focuses on comprehensive professional fields such as journalism, corporate communications, culture or human resource management. By key competence, we understand a personal and profession-oriented agency. Four areas of expertise can be distinguished: Specialist expertise, methodological skills, social skills and individual competencies. These action-oriented areas of expertise aim to develop a persons' knowledge, competencies, skills and attitudes. In all BOK courses, the promotion of key competencies is an essential cross-departmental task, realized primarily through interactive problem and project-oriented methods, working in small groups/small-group work and instructed feedback processes.
Qualification refers to the factual level (object-centered) and comprises of clearly describable and testable knowledge, competencies, and skills. Qualification is required to develop competencies.
Competence refers to the individual (subject-centered) and describes the self-organization ability when acquiring knowledge and further developing skills, attitudes, experiences, and learning behavior. Competence is based on the mental preparedness and physical ability to deal with requirements, situations, and challenges and to develop and implement respective courses of action. (cf. Erpenbeck, J., von Rosenstiel, L. (Hrsg.) (2007): Handbuch Kompetenzmessung. Stuttgart: Schäffer-Poeschel Verlag.)
Accordingly, profession-oriented skills are the skills, attitudes, and knowledge that enable a person to behave adequately in a professional field.
Qualifications can be imparted, competencies can be promoted during the learning process